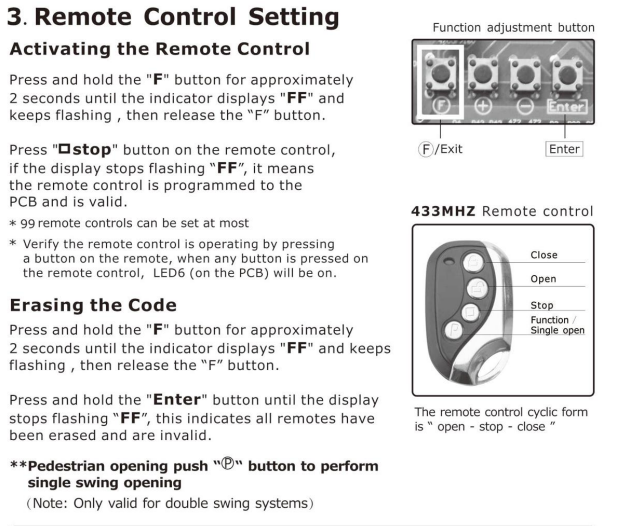 Ahouse Swing Or Slide Gate Kit Remote Control x 1
---
Hi, these are the standard remotes for Ahouse swing and slide motors.

Code instructions,

 
✔ Adjustable Power For Gate Or Driveway LED's

✔ Soft Start & Slow Function

✔ Auto-Stop If Any Obstacles Dected During Operation

✔ Copper Worm Gear For Durability & Quiet Operation

✔ Manual Release With Secure Customized Key Function
✔ 2 x Heavy duty DC motor that are pre-wired with motor cables

✔ 2 x Override spanners

✔ 1 x Control panel

✔ 2 x Remote controls

✔ 2 x Post mounting bracket

✔ 2  x Gate mounting bracket

✔ 1 x 30watt solar panel

✔ 2 x 12v 9Ah 20Hr rated batteries

✔ 2 x Rubber Gate Stop

✔ 1 x Instruction manual

✔ Wireless keypad & exit button available

✔ Extra remotes $30

✔ Great backup service
Place your order before 2pm and have it shipped same day
FAQ
We understand that you may have questions about our product, so we have compiled a list of the most commonly asked questions to help you find the answers you need.
If you don't find what you're looking for here, feel free to reach out to us directly. We are always happy to help.
Call Graeme 1800 931 597
How easy is the Swing Gate Kit to install?

The kit is incredibly easy to install and includes detailed assembly instructions with pictures to help you.
How much weight can the Swing Gate Kit support?

It can support gates up to 450KG pounds in weight. Conditions apply depending on gate type & material*
Is the Swing Gate Kit weatherproof?
What is the maximum opening size of the Swing Gate Kit?

The maximum opening size is up to 4.5 meters Check with Graeme
When will my order be shipped?

Orders before 2 pm will be shipped the same day, and orders placed after 2 pm will be shipped the next day Australia-wide
Yes, we do! Overseas deliveries can take anywhere from 7-16 days. Delivery details will be provided in your confirmation email.
If you don't find what you're looking for here, feel free to reach out to us directly. We are always happy to help.
Call Graeme 1800 931 597
The Gatehouse Difference
Gatehouse Automatic Swing Gate Opener kits combine top-quality components to provide highly durable and reliable gate automation systems that can handle wide driveways and heavy loads. These systems are available in Solar or Electric models, with Battery Backup included, and are designed for entrances with or without mains power.
Backed By 4 Year Warranty

When you choose Gatehouse, you're not just getting a top-quality gate system for your home, you're getting peace of mind. Our kits are backed by a 4-year warranty.
Unmatched Customer Service

At Gatehouse, we pride ourselves on providing our customers with the highest level of customer service. Graeme is always on hand to answer any question you may have - 08 95711936
Maximum Safety & Security

Upgrade the security of your property gates with ease. Safety and security are our top priorities. All of our gate kits are designed with the latest security measures to ensure your home or business is always safe and secure.
Innovative Gate Solutions

We understand the important of staying ahead of the curve. That's why we're constantly innovating and developing new solutions to ensure our gate kits are always on the cutting edge of technology. No matter what your needs are, we have the perfect solution for you.